Three Guangxi students' invention of stationery storage device wins national utility model patent
Views: 2 Author: doris zhang Publish Time: 2022-07-15 Origin: Site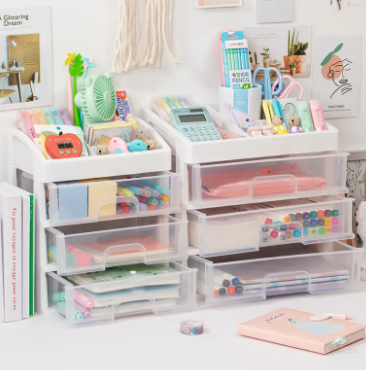 Hu Chuangjing, Su Yihang and Lu Suhui, three students from the Science and Technology Innovation Club of Fusui County Experimental School in Chongzuo City, Guangxi, jointly invented a stationery storage device, which solved the problem of stationery storage and was issued a "utility model patent" certificate by the State Intellectual Property Office in 2022.
Fusui County Experimental School has developed a science and technology innovation club, in which the invention and creation course is very popular among students. Through the guidance of invention and creation methods, students mastered the "Twelve Invention Techniques" and cultivated the learning habit of finding solutions with problems.
The existing stationery storage device in the books, writing pens and other items of different sizes and shapes for storage, often books, writing pens directly together, or writing pens in a separate stationery box, and then the stationery box and books together, which makes the stationery particularly messy, and not easy to take out, writing pens in the stationery box when moving, easy to make a bang sound, and even the writing pen The pen can be damaged.
In order to solve the above problems, the students took "a stationery storage device" as the theme of the project and carried out the invention investigation and hands-on practice. Through exploration, the advantages of the invented stationery storage device are: the stationery box can store small-sized stationery such as writing pens, the sponge pressure block can fix the stationery in the stationery box to prevent damage caused by stationery colliding with each other when the device moves, the slide rail and slide plate can be fixed in the stationery bag body opening, so that people can easily take out stationery from the stationery box, the said stationery bag body can be stored for books and other bulky stationery.
Under the continuous exploration of the group, the solution was sought to solve the problem. They finally invented a solution to the stationery storage device and successfully obtained a utility model patent certificate granted by the State Intellectual Property Office. The three students not only have excellent grades, but also have a high level of overall technological literacy, which is the result of Fusui County Experimental School's "Five Education" philosophy of education.
Source: Guangxi, China News Network